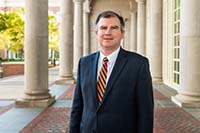 Ph.D., University of Texas, 2002
M.S., University of Texas, 1999
B.S., University of Pretoria, 1995
Anton Schindler is recognized for excellence in teaching, research, and professional service. He is the Director of the Highway Research Center and Mountain Spirit Professor at Auburn University. He received his M.S.E. and Ph.D. in Civil Engineering from The University of Texas at Austin in 1999 and 2002, respectively.
After earning his B.C.E. degree in Civil Engineering he worked for four years for a structural design firm in Pretoria, South Africa while he studied to complete an Honors Degree in Structural Engineering at the University of Pretoria in 1995. He joined Auburn University as a faculty member in the Department of Civil Engineering in 2002 where has worked since. Under his leadership, the extramural funding for the Highway Research Center has significantly grown allowing the center to expanded its activities.
He has twice been selected by students as the department's Outstanding Faculty Member. He received the Chi Epsilon (Civil Engineering Honor Society) Excellence in Teaching Award for the Southern District in 2008 and the College of Engineering at Auburn University's Walker Merit Teaching Award in 2012.
He was selected to be a Fulbright U.S. Scholar in Finland during the spring 2016 semester. During this time, he collaborated with researchers from the VTT Technical Research Center of Finland to develop concrete designed for use in a waste nuclear fuel repository.
Dr. Schindler has always been willing to share his knowledge of concrete materials with others. His dedication to excellence in engineering education is demonstrated in thousands of engineers he has trained by developing and delivering workshops and conferences across the United States.