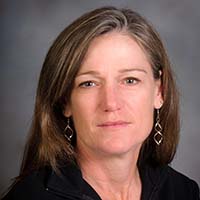 Ph.D., University of Texas, 1993
M.S., University of Texas, 1990
B.S., University of Nebraska, 1983
Carin Roberts-Wollmann received her BS in Civil Engineering in 1983 from the University of Nebraska – Lincoln. She was then hired as the first female construction engineer at Austin Bridge Company in Dallas and after two years, was assigned to be the field engineer in San Antonio. In San Antonio she worked in the casting yard for the precast segmental viaduct being constructed in down town, known as the San Antonio "Y".
This project opened her eyes to all she did not know about structures, so she began her master's degree at UT in the fall of 1986. She worked with Dr. Jack Breen for her master's thesis, and enjoyed research so much that she stayed for her PhD. She received her MS in 1990 and her PhD in 1993. Carin was the first woman awarded a PhD in the area of Structural Engineering at UT and is pleased to see the significant number of women that have followed her.
After working in industry for six years, Carin accepted a position as an Assistant Professor in the Structural Engineering and Materials program area of the Civil and Environmental Engineering Department of Virginia Tech in 1999. Today she is a professor at VT, specializing in reinforced and prestressed concrete. She focuses on new materials and new construction procedures to enhance the economy, durability and constructability of concrete bridges and buildings.
Carin married fellow Academy member Gregor Wollmann in 1993, and they have three grown children: Eric, Stephanie and Jessi. When not breaking things in the lab, she enjoys golfing, skiing, hiking and traveling.
Carin Roberts-Wollmann has made many contributions to the advancement of structural engineering and to the advancement of women in engineering. We are proud to honor her tonight!