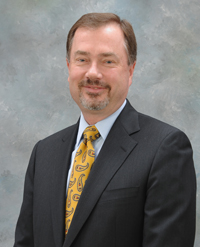 Glenn A. Rix
PhD, University of Texas at Austin, 1988
MS, University of Texas at Austin, 1984
BS, Purdue University, 1982
Glenn Rix has had two very successful careers: a highly-regarded teacher and researcher at Georgia Tech, and a leading geotechnical earthquake engineering consultant at Geosyntec. He has also distinguished himself as an active member in the National Science Foundation's Geotechnical Extreme Events Reconnaissance (GEER) Association, the pre-eminent organization in the world coordinating geotechnical investigations after extreme events, such as earthquakes and floods.
At UT Austin, he was supervised by Dr. Kenneth Stokoe. Rix considers Dr. Stokoe to have had the greatest impact on his career as an advisor, teacher, mentor and friend for nearly 35 years.
Following graduation, Rix was a faculty member at the Georgia Institute of Technology for over two decades. During that time, he helped educate more than 2,500 undergraduate and graduate students, led numerous research projects, and was active in professional service, including serving as department chair. He is most proud of having the opportunity to teach so many students, many of whom are now working in academia or practice.
After a 24-year career in academia, Rix joined Geosyntec Consultants in 2013 as Senior Principal. His practice includes seismic hazard assessment and mitigation for civil infrastructure including dams, power plants, and ports and harbors, as well as advanced near-surface geophysics investigations and interpretations across a range of applications.
Rix quickly established himself as a leading geotechnical earthquake engineering consultant to government and industry in the eastern and central U.S. He was recently appointed to a three-year term on the Advisory Committee on Earthquake Hazards Reduction (ACEHR), one of the more prestigious appointments for an earthquake engineer, scientist, or policy analyst.