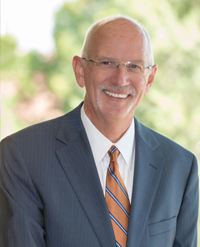 Joseph R. Rapier
BS, University of Texas at Austin, 1981
Joseph Rapier is President and CEO of Parkhill, Smith and Cooper (PSC), a full-service design firm primarily working in the public sector on municipal infrastructure, education, healthcare and transportation. Since becoming president of this west Texas-based firm, it has grown in size while continuing to have the reputation of being one of the best places to work in the region.
Rapier earned his Bachelor of Architectural Engineering from The University of Texas at Austin in 1981. He worked as a structural engineer for a local firm in Lubbock, Texas and later operated his own practice. Rapier joined PSC in 1992 and became the firm's fourth Chief Executive Officer and President in 2006. In 2013, he was named Engineer of the Year by Texas Society of Professional Engineers (TSPE).
Since Rapier has been PSC president, the firm's staff has grown by 40% and four new locations were added. PSC has been recognized twice as a "Best Firm to Work For" in part due to the firm's focus on staff licensure, challenging opportunities, and enabling personal and professional development. In 2014, PSC launched its Building Community Investment program to invest 1% of earnings in the communities we serve through grants, pro bono services, employee matching gifts and volunteer service.
In the public service domain, Rapier serves the community through leadership roles in the Lubbock Chamber of Commerce, City Boards, Reese Redevelopment Authority, Carillon Retirement Community Foundation, St. Elizabeth's Catholic Church and helping developing leaders through BSA Troop 157. Additionally, he currently serves as TSPE Legislative and Governments Chair.