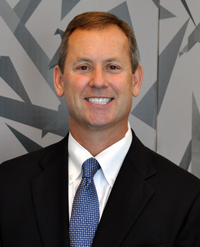 Erik L. Nelson
PhD, University of Texas at Austin, 1986
MS, University of Texas at Austin, 1983
BS, University of Texas at Austin, 1981
Erik Nelson is founder, president and chief executive officer of Nelson Forensics, a multi-disciplined engineering and forensics firm headquartered in Plano, Texas. The firm is one of the fastest growing forensics firms in the nation, with nearly 100 employees who provide nationwide consulting services. All the while, he has been a great friend and supporter of the CAEE Department, always eager to share his knowledge and expertise with students.
Erik graduated with a BS and MS in architectural engineering and earned a PhD in civil engineering. He was supervised by David Fowler and to this day, they still work together on the annual Forensics Engineering Symposium hosted by UT's Center for Lifelong Engineering Education.
After graduating from UT Austin, Erik was a design engineer at Datum Engineering. He also served as a Project Engineer/Senior Associate for Campbell and Associates before starting his own firm. In these roles, he designed commercial, industrial and institutional buildings and also helped renovate a fire and hurricane damaged hotel in San Juan, Puerto Rico.
In 2003, Erik and his firm were responsible for Frank Lloyd Wright's Gillin residence rehabilitation. This project became a case study for basic hail damage theory and for distinguishing the types of damages that hail causes and does not cause.
Erik's list of high visibility projects is vast. Nelson Forensics has been involved with hurricanes Sandy, Rita and Katrina storm surge and wind damage assessments; evaluation and repair design of industrial power plant building in Oklahoma due to tornado; and Tornado damage and assessment and feasibility studies in Alabama and Joplin, Missouri – just to name a few.
Erik is recognized as an expert witness in legal proceedings and dispute resolution around the country. He is a published author on foundation and wall veneer failures, investigative methodologies, roof collapses, and more, and his Common Perils® presentation series is certified for continuing education credit through the Texas Department of Insurance and other states. A licensed Professional Engineer in the state of Texas and in 37 additional states, he also has a National Registration with the National Council of Examiners for Engineering and Surveying.
He has also served on the External Advisory Committee for the department and regularly presents case studies to graduate classes in forensic engineering and to structures seminars. Two of his top three associates are UT graduates.