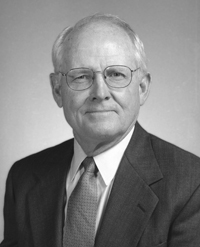 William R. Ratliff
B.S., University of Texas at Austin, 1960
After graduating from public school in the small West Texas ranching town of Sonora, Texas, Bill Ratliff earned a degree in civil engineering from The University of Texas at Austin. He worked as civil engineer for 30 years before serving as a member of the Texas State Senate for 15 years. He also served as the 40th Lieutenant Governor of Texas. Of his legislative service, he says he is most proud of his work on public school finance.
He was first elected to the Texas Senate in 1989. During his tenure in the Senate, he served four years as Chairman of the Senate Education Committee, and four years as Chairman of the Senate Finance Committee. During his third legislative session, he completely rewrote Texas' outdated public education code on his laptop computer.
In December of 2000, Senator Ratliff was chosen by his colleagues in the Senate to serve as the 41st Lieutenant Governor of Texas as then Lieutenant Governor Perry moved into the Governor's office vacated by George W. Bush when he became President.
Ratliff returned to the Senate when David Dewhurst became Lieutenant Governor in 2003. He went on to serve as Chairman of the Senate State Affairs Committee.
Ratliff was also named one of Texas Monthly magazine's prestigious "Best Legislators" roundup an unprecedented five times.
"He is a gentlemanly, no-nonsense, solution-oriented, moderate-conservative policy man, known for delivery straightforward, honest judgments without frills or flourishes." - Member, Capitol Press Corps
"Bill Ratliff is the gray eminence of the Texas Senate. A calm, ramrod-straight, low-key Southern gentleman affectionately known to his colleagues as Obi-Wan Kenobi, after the wise advisor in Star Wars." - President George W. Bush
Ratliff was he was named a Distinguished Graduate of the UT School of Engineering in 1990. In 2005, Ratliff was awarded the John F. Kennedy Profile in Courage Award for "the example he has set of courage and principle in American life."