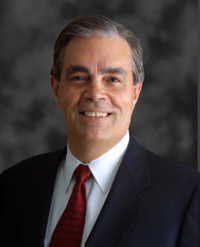 Jack P. Randall
M.S., University of Texas at Austin, 1975
B.S., University of Texas at Austin, 1972
Jack Randall became a leader in mergers and acquisitions for the global energy industry by utilizing his engineering skills. Under his management, his advisory firm significantly transformed the mergers in acquisitions business in oil and gas and pioneered the transaction business as it is now conducted worldwide. He comes from a long line of engineers - his grandfather was a civil engineer, and both his father and younger brother are graduates of the department.
After graduation, he began his career as an engineer with Standard Oil of Indiana (Amoco), where he worked for 14 years in various engineering operations and management positions. He was responsible for numerous onshore and offshore energy projects throughout the U.S. and his last position was Manager of Mergers and Acquisitions (M&A).
In 1989, he started his own firm, Randall & Dewey, Inc. (R&D), where he was President and CEO for 15 years. The advisory firm provided the energy industry with new approaches and methods to M&A transactions and is recognized as having pioneered the M&A business as it is now conducted worldwide.
Over time, its services grew to include strategic consulting, asset management and corporate finance. Prior to being acquired by New York investment bank Jefferies & Company, R&D had grown to include over 100 engineers, geoscientists, and finance professionals with offices in the U.S., Canada, Europe and Africa.
While at R&D in 2001, Randall also co-founded the Caymus Energy Fund - an energy hedge fund where he still serves as a director. He also continues his M&A career at Jefferies. In 2009, he initiated and was the lead advisor on the $41B merger between ExxonMobil and XTO Energy, the largest U.S. exploration and production transaction to-date. He has initiated and completed over $100B in energy industry transactions during his career.
Randall is on the Board of the M.D. Anderson Cancer Center and is a former member of the board of directors of Esenjay Exploration (NASDAQ) and XTO Energy (NYSE). He serves as a member of the Chancellor's Council at UT Austin, the Cockrell School of Engineering Advisory Board, and is a founding member of UT Austin Energy Advisory Council. He is also a past Chairman of the Engineering Advisory Board and the Petroleum Engineering Visiting Committee. In 2005, he received the Cockrell School's Distinguished Engineering Graduate Award.
Randall, a born-and-raised Austinite, comes from a long line of Longhorn engineers, and his own family is continuing the tradition. His father, brother and daughter are engineering graduates from the university, and his son is a sophomore mechanical engineering student. As a life member of Friends of Alec, Randall supports an endowment to fund engineering scholarships and programming.