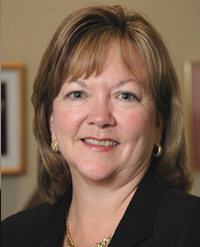 Sara N. Ortwein
B.S., University of Texas at Austin, 1980
Over the span of her career, Sara Nall Ortwein has held numerous technical, operations, planning and key leadership assignments within upstream oil and gas sector. In 2016, she became president of XTO Energy Inc., which handles all of ExxonMobil's unconventional operations, which includes all of North America and Argentian. She is a breakthrough leader in the energy field.
Sara Ortwein became a drilling engineer for Exxon after graduating with a B.S. degree in 1980. She held a variety of positions within U.S. Production operations working in New Orleans, Midland and Houston and was the Reservoir Evaluation and Planning Manager for Exxon Ventures, CIS, where she worked on new venture capture in Russia, Azerbaijan and Kazakhstan.
Following the ExxonMobil merger in 1999, Ortwein was responsible for production reservoir engineering worldwide as Reservoir Engineering Manager.
From 2001-2003, Ortwein served as Advisor to the Upstream Director at the corporate headquarters in Irving, Texas. She was named Production Manager with U.S. Production in 2004, running all ExxonMobil-operated production operations in the United States and participating in the development of Piceance field in Colorado.
Ortwein is currently the President of XTO Energy, Inc., a subsidiary of Exxonmobil. She is the former president of ExxonMobil Upstream Research Co., where she was engaged in the integral role of ensuring the technical quality of the engineering work that supports all of the company's projects around the world. In this position, she recruits, develops and deploys engineers across the Development Company.
Ortwein participates on the advisory council for the ExxonMobil Corporate Initiative on Educating Women and Girls, which focuses on educating women and girls in developing countries. She has also served as a mentor in the FORTUNE/U.S. State Department's Global Women's Mentoring Partnership.