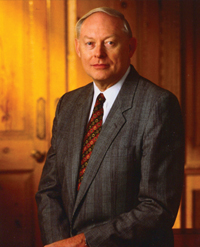 Larry E. Farmer
Ph.D., University of Texas at Austin, 1965
M.S., University of Texas at Austin, 1964
B.S., University of Missouri-Rolla, 1961
Larry Farmer has been a teacher, researcher, entrepreneur, designer, project manager and engineering/construction executive. He is a pioneer in developing and marketing structural analysis design software and holds patents in offshore platform design. He is a true civil engineer who became highly successful in management and business.
Farmer was supervised by Dr. John Breen for his master's degree. His PhD dissertation under Dr. Phil Ferguson was the basis for an ACI paper that received ACI's Wason Medal in 1969After receiving his doctoral degree at UT in 1965, Farmer went back to the alma mater of his undergraduate degree, the University of Missouri-Rolla, as an assistant professor of civil engineering, where he taught and researched structural engineering.
In 1967, he founded his own firm, L.E. Farmer, Inc. in Atlanta to provide computer software for structural engineering firms. He was a developed state-of-the-art analysis and design software for use with time-sharing computers. A few years later, he sold this company to CompuServe, where he was director of engineering software until 1976.
He then joined Brown & Root to develop new offshore platform concepts. He advanced rapidly in Brown & Root, becoming Chief Engineer, Europe & Africa in 1982 and fostering the largest design engineering business in Europe.
During the ten years (1990-2000) he was president of Brown & Root Energy Services, it became the largest offshore engineering and construction firm in the world. Under his leadership its size increased five-fold. He retired in 2001 as Chief Executive of Halliburton Brown and Root Limited and is now director of two British companies, Invensys plc and Digital Steps Limited.
Throughout his career, Farmer has remained a staunch UT supporter. He is a long-time member of the UT Engineering Foundation Advisory Council. He is a registered professional engineer, holds patents in marine technology, and has published papers in structural and marine engineering as well as engineering and construction management.
Farmer says that two great sources of satisfaction for him are working with teams to achieve extraordinary performance and using engineering as a means to enhance quality of life.