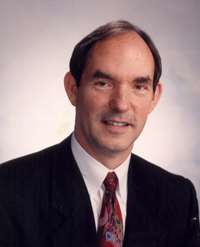 Joseph W. Blandford
O.P.M. Harvard Business School, 1996
M.S., University of Houston, 1977
B.S., University of Texas at Austin, 1972
Joe Blandford improved oil and gas recovery efforts through innovative technology that he developed while leading Atlantia Offshore in Houston for more than two decades. He has more than 60 patents to his credit for creating and advancing offshore technology in shallow and deepwater marginal fields.
His offshore technology focus began while earning a bachelor's degree in civil engineering with an Ocean Option from UT in 1972. After graduation, he designed and constructed tanker terminals for Fluor Ocean Services. He worked on the Alyeska terminal at Valdez Harbor in Alaska, was stationed on a derrick barge in Cook Inlet, and designed and built the Bonaire terminal in South America. He also expanded the Ras Tannurrah terminal, later destroyed in the Gulf War.
While working at Fluor, he completed a master's degree and two years later founded Atlantia Engineering. Specializing in low-payload, low-cost platforms for offshore marginal fields, Atlantia installed the first patented SeaHorse platform in July of 1984. Under Blandford's leadership as Chairman and CEO, the company installed over 200 shallow water proprietary platforms in the Gulf of Mexico, West Africa, the North Sea and the Middle East.
Grants from the U.S. Department of Energy enabled Blandford to expand his technologies and develop the SeaStar family of platforms for deep water. The company received the Tibbetts Award in 1993 from the U.S. Department of Energy for this innovative technology, and received the Technology Excellence Award from the Offshore Technology Conference in 2003.
Atlantia was acquired by a European consortium in 2001, and Blandford has remained professionally active since retiring in 2003. He is president of the board of directors for the Petroleum Club of Houston and is a member of its foundation's board of directors. He is also a member of the IPAA, the API, and ASCE.
Blandford serves on The Chancellor's Council for The University of Texas System and the UT Development Board. He supports the Cockrell School of Engineering in many ways including serving as past Chair of the Engineering Advisory Board; participating in LeaderShape Texas to educate students on leadership skills; supporting faculty recruiting efforts; helping to develop the UT Energy Institute; and taking an active role in making UT's Engineering Education and Research Center a reality.