Registration advising is required of all undergraduate students twice a year in April and October. Registration advising is offered on a WALK-IN basis only. No appointment is required. The advising period is the student's opportunity to meet with the faculty and staff to discuss their degree progress and educational and professional goals.
Summer and Fall 2013 Registration Advising
April 10–12 (Wednesday – Friday); April 15–17 (Monday – Wednesday)
Registration Requests
Non-Major 333T Registration Procedures (pdf)
Core Curriculum
American History (pdf)

Flag Requirements (pdf)

Government (pdf)
Faculty
Article Count: 1
The National Academy of Engineering (NAE) mission is to promote the technological welfare of the nation by marshaling the knowledge and insights of eminent members of the engineering profession. The NAE was established in 1964, and election to membership is the engineering profession's highest distinction.
More than 100 years ago, our department started with only two faculty and a small but dedicated group of students. Today, we are one of the largest, most extensive civil engineering departments in the nation, with more than 10,000 living alumni, over 1,000 students, and over 60 faculty members. Even though we are top ranking and large in size and stature, we make it a priority to connect with our students and to foster a sense of community.
These stories illustrate both why our graduates are sought out by industry, government, and academia and why our research programs continue to improve the quality of life for many.
Students come from all over the world to the CAEE Department in order to receive a top engineering education. As soon as they enter our program, they are exposed to vast opportunities and share experiences that make a difference in their lives and in the lives of others.
Their backgrounds, interests and opinions are as diverse as the student body itself. Take a moment to read about the CAEE experience from the perspective of some of our undergraduate and graduate students.
Today's civil and architectural engineers are breaking new and exciting ground – just as engineers of the past century blazed unknown trails. We rely on your charitable gifts and private support to enhance our students' education and to remain one of the nation's top engineering departments.
We have within our power, the ability to design a safer, cleaner and more accessible world for all people. Your generosity helps make this happen.
Ways of Giving (link to CAEE Ways of Giving page)
Giving Opportunities (link to CAEE Giving Opportunities page)
To establish a scholarship, graduate fellowship, endowment or to ask a specific question about giving to the department, please contact Michael Barasch or 512-471-0469.
Whether you are creating an endowment or providing immediate funds to support people and programs, there are many gift options that will accomplish your philanthropic goals.
Online gift - Access the convenience of secure online giving through the University's giving page.
Check sent via US Mail – All checks in support of the CAEE Department should be made payable to The University of Texas at Austin. Please note in the memo line your gift's designation to the Department of Civil, Architectural and Environmental Engineering. Checks should be mailed to the address listed below.
Matching gifts - Alumni and friends can maximize the impact of their gifts through employer matching gift programs.
Bequests and Planned Gifts - Gift planning is one of the most powerful ways you can support the CAEE Department. Learn more about structuring a gift that will honor your values and meet your personal, financial and estate planning goals.
Stock Transfer - A gift of appreciated stock is an excellent way to support the department, simultaneously avoiding capital gains tax and taking a charitable deduction.
Wire Transfer – This method is most commonly used with gifts made outside of the US. To ensure proper credit of the gift, donors should contact a staff member in the Cockrell School of Engineering at 512-471-3395 to request transfer instructions.
All checks and documentation in support of the Cockrell School of Engineering should be mailed to:
The University of Texas at Austin
Engineering Foundation
301 E. Dean Keeton St., C2104
Austin, TX 78712-0287
Telephone: 512-471-3395
Fax: 512-471-3995
For any assistance related to making a gift, please contact CAEE development officer Michael Barasch or 512-471-0469.
Donors may choose to allocate their gifts in one of the following ways:
Memorial or Honorary Gifts - Many donors make gifts to honor or memorialize a loved one, a beloved professor or cherished friend.
Named Endowments – named faculty endowments support and sponsor excellence within the department or the faculty member's academic area. You may choose to designate your gift to one of the following established funds:
Jack Breen, established 1986
Phil Ferguson, established 1980
John A. Focht, established 1982
David W. Fowler, established 2010
Earnest F. Gloyna, established 1985
Ron Hudson, established 2003
Clyde Lee, established 1995
Hudson Matlock, established 2001
Walter L. Moore, established 1988
Carl Morgan, established 2004
Roy Olson, established 2003
Lymon Reese, established 1999
Richard Tucker, established 2003
Program Support – the department has a number of programs whose breadth allows for both comprehensive research across the field or for a first-rate education. To help us achieve the best possible education, donors may direct their gift to one of the following program areas:
Architectural Engineering
Building Energy and Environments
Construction Engineering and Project Management
Environmental and Water Resources Engineering
Geotechnical Engineering
Structural Engineering, Mechanics and Materials
Transportation Engineering
The Legacy Campaign (link to Legacy Campaign page) - The department's five-year campaign will establish programs for Legacy Fellows and Legacy Scholars with endowed funds dedicated to attracting top graduate students and supporting undergraduate student researchers. Legacy Funds are housed together creating a larger, overall pool of support for CAEE undergraduate and graduate education. Two funds have been created to date:
Joseph F. Malina Legacy Endowment in CAEE
Charles and Patricia Metcalf Legacy Endowment in CAEE
Friends of Alec – The Friends of Alec CAEE Annual Fund supports ongoing programs and special initiatives within the department. Donated funds are used to upgrade classrooms and labs, support student organization activities, enhance alumni relations and outreach.

CAEE is dedicated to educating leaders of the future in technology, industry, academia, and business who will thrive in today's globally competitive environment.
What is The Legacy Campaign?
People are the most important resource within the Department of Civil, Architectural and Environmental Engineering (CAEE) at The University of Texas at Austin. We have a bold vision to compete for the world's brightest student leaders. Recognizing our need to support human capital and our commitment to preparing for our future, CAEE is launching the Legacy Campaign, an alumni fundraising effort that seeks to raise $10 million over five years. The campaign will establish programs for Legacy Fellows and Legacy Scholars with endowed funds dedicated to attracting top graduate students and supporting undergraduate student researchers. Legacy Fellows will be recognized among the most prestigious graduate fellowships, and the Legacy Scholars will be distinct among our peer institutions, which typically lack the resources to fund undergraduate research.
The Legacy Campaign will enable CAEE to recruit the most sought-after graduate students and to engage our brightest undergraduates to work alongside faculty on visionary research that delivers real-world results, grows our economy, and creatively addresses the future's most daunting societal challenges.
Legacy Fellows
Today's graduate students are the next generation of technology creators, economy builders, society servers, researchers, and teachers. CAEE's national reputation hinges in part on the quality of graduate students we recruit. While multiple factors ensure recruitment of undergraduates, CAEE is not as competitive in attracting top graduate students from across the U.S. Prestigious, fully-funded Legacy Fellowships will enable CAEE to extend competitive offers and sustain our standing as one of the top five nationally ranked programs in the country. The Legacy Campaign will secure the financial resources needed to build a preeminent endowment for graduate fellowship support.
Legacy Scholars
There has never been a more important time to support undergraduates who are interested in research opportunities. Data show that working in a lab as an undergraduate significantly enhances the learning experience through one-on-one interaction, encourages pursuit of a graduate degree, and teaches skills that are highly valuable in the workplace. No matter the impetus behind a student's interest in undergraduate research, the benefit is dramatic. CAEE does not currently have the resources to pay undergraduates for their work on research teams, but the Legacy Campaign will secure financial resources to permanently endow undergraduate research stipends.
Sustaining Excellence
More than 100 years since its founding, CAEE and its alumni continue to meet the challenges of maintaining, modernizing, expanding and securing the vast infrastructure that underpins our modern society while simultaneously working to sustain our environment for future generations. CAEE's success by any measure—top national rankings, graduation rates, teaching awards—is tied to the accomplishments of its faculty, its graduate students, and its undergraduates. If CAEE is to continue to distinguish itself among peer institutions, it must invest in its most valuable resource—our students.
How it Works
Legacy Funds are housed together creating a larger, overall pool of support for CAEE undergraduate and graduate education. The return of the endowed Legacy Funds gives the department the highest flexibility to address critical areas of research and recruitment. To date, Legacy Funds have been created in honor of Dr. Malina, and graduates Charles and Patricia Metcalf. If you would like to create your own Legacy Fund, please contact Michael Barasch or 512-471-0469.
To view a Legacy Campaign handout, please CLICK HERE
We encourage you to stay involved and connected to CAEE. There are many ways to stay in touch: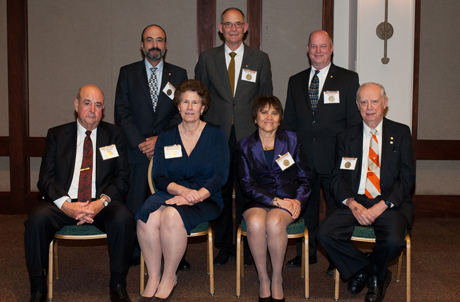 The Civil, Architectural and Environmental Engineering Academy of Distinguished Alumni was established to recognize the professional achievements and contributions of our graduates. The members of the academy also serve as leaders and role models among alumni and students.
Twenty-seven charter members, all Distinguished Graduates at the Cockrell School of Engineering or CAEE departmental level, were inducted into the Academy on November 7, 2003. Every fall since, eight to nine additional members are inducted into the Academy.
Each active member holds a B.S., M.S., or Ph.D. from the department and is outstanding in his or her field, a leader of community affairs and worthy of emulation. Their names are listed below in alphabetical order, linking to photos and detailed information on their engineering contributions.
We encourage you to regularly check the this page and stay a part of CAEE.
There are many events throughout the year that give you opportunities to interact with other alumni, faculty, and students. We look forward to seeing you!
May 9, 2013
San Antonio Alumni Seminar
11:30 a.m. - 1:00 p.m.
San Antonio Water System (SAWS) Conference Room
REGISTER for San Antonio NOW!
May 14, 2013
Austin Alumni Seminar
11:30 a.m. - 1:00 p.m.
Pickle Research Center - Commons, Li'l Tex Conference Room
REGISTER for Austin NOW!
May 23, 2013
Houston Alumni Seminar
11:30 a.m. - 1:00 p.m.
Federal Reserve Bank - Houston Branch
REGISTER for Houston NOW!
May 31, 2013
Dallas Alumni Seminar
11:30 a.m. - 1:00 p.m.
CP&Y
REGISTER for Dallas NOW!
Questions? Please email Laura Klopfenstein or at (512) 471-1279.