News & Features
Alumnus Rex Tillerson Confirmed as U.S. Secretary of State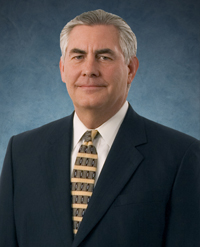 Feb.1, 2017
The Senate has confirmed Rex W. Tillerson, alumnus of the Department of Civil, Architectural and Environmental Engineering and a member of the National Academy of Engineering, as the 69th U.S. Secretary of State. In this cabinet position, Tillerson will serve as the top foreign policy advisor to President Trump and the leader of the U.S. Department of State and the U.S. Foreign Service.
Tillerson was previously CEO and chairman of ExxonMobil Corp. He earned a bachelor's degree in civil engineering from UT Austin in 1975 and joined Exxon Co., U.S.A. as a production engineer that same year. He spent his entire professional career with ExxonMobil.
"For decades, Rex has been an outstanding leader, a loyal friend of the university and a source of inspiration for our community," said Sharon L. Wood, dean of the Cockrell School. "I congratulate him on his confirmation, and I wish him much success as our new Secretary of State."
Tillerson serves as a member of the Cockrell School's Engineering Advisory Board, the UT Development Board and the UT System Chancellor's Council. He was named a Distinguished Engineering Graduate of the Cockrell School in 2006 and a UT Austin Distinguished Alumnus in 2007. In 2013, he was elected to the National Academy of Engineering.