News & Features
Alumnus Sam Dawson Delivers Keynote Speech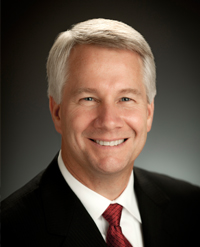 Dec. 5, 2013

Samuel G. Dawson, chief executive officer of Pape-Dawson Engineers, Inc., is keynote speaker for the Cockrell School of Engineering Fall Commencement Ceremony on Dec. 7, 2013. He graduated from The University of Texas at Austin with a bachelor's of science degree in civil engineering in 1983.
As CEO of the San Antonio-based firm, Dawson is responsible for Pape-Dawson's management, allocation of resources, strategic planning, human resources and operations. He also provides review and coordination of major projects. Founded in 1965, Pape-Dawson has grown into one of the largest and most respected engineering firms in Texas, with offices in Austin, Houston, Dallas and Fort Worth. Some of Pape-Dawson's more notable projects include the AT&T Center, Toyota Tundra Assembly Plant, Sea World of Texas, Fiesta Texas, resort and golf courses for The Westin La Cantera Hill Country, JW Marriott San Antonio Hill Country and Hyatt Regency Hill Country, and the Valero and Tesoro Corporate Headquarters.
In addition to managing the engineering firm, Dawson is a community leader who has contributed countless hours to various Texas organizations.
Dawson learned the value of community service from his family, who has been involved in every area of philanthropy in San Antonio and South Texas for generations. In 2009, Junior Achievement inducted the Dawson family into the San Antonio Business Hall of Fame. Dawson is also the recipient of the American Society of Civil Engineers (ASCE) - John A. Focht, Jr. Citizen of the Year Award, and the San Antonio Mobility Coalition Transportation Champion Award. He was selected as one of San Antonio Business Journal's 40 Under 40 and formerly selected by the Texas Society of Professional Engineers as the Bexar Chapter Young Engineer of the Year and the State Young Engineer of the Year as well as the Bexar Chapter Engineer of the Year.
In 2013, he was inducted into Cockrell School Department of Civil, Architectural and Environmental Engineering's Academy of Distinguished Alumni.
Dawson has served the Cockrell School's Engineering Advisory Board (EAB) since 2003. In 2012 he was appointed chair, and he was re-elected to that position in 2013.
Dawson's record also includes hours of volunteer service, which supports many professional, charitable and community organizations. He has served as president or chairman of the following: the Greater San Antonio Chamber of Commerce, The University of Texas at San Antonio Engineering Advisory Council, Trinity Baptist Church Deacon Council, the Witte Museum Board, Texas Society of Professional Engineers, American Society of Civil Engineers, the Rotary Club of San Antonio, the San Antonio Mobility Coalition, Professional Engineers in Private Practice, the Cystic Fibrosis Foundation, and The Tobin Center for the Performing Arts Founders Network.
Pape-Dawson is the recipient of numerous professional and civic awards. The most recent being recognized as a recipient of the 2013 Secretary of Defense Employer Support Freedom Award for providing exceptional support to its Guard and Reserve employees. The award is the Department of Defense's highest national honor.
Born and raised in San Antonio, Dawson is married to Laura Ferree Dawson of Fort Worth. Sam and Laura Dawson are active in their church and in serving the community together. They have two children, Taylor and Kendall.