Academy of Distinguished Alumni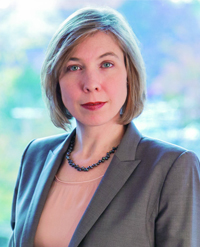 Valerie A. Briggs
MS, University of Texas at Austin, 2000
BS, University of Texas at Austin, 1997
Valerie Briggs is a visionary leader who has worked on the cutting edge of transportation research and directing critical transitions in improving and modernizing transportation services in the United States.
As the first permanent Program Manager for Operations at the American Association of State and Highway Transportation Officials (AASHTO), Valerie developed and oversaw new programs in transportation operations and security/emergency management. These concepts represented a fundamental change in how state transportation agencies manage and operate facilities in conjunction with other disciplines and government agencies.
In the aftermath of 9/11 and Hurricanes, Katrina and Rita, numerous states saw firsthand the need to start or expand their own activities in transportation operations and security, and relied on the AASHTO programs that Valerie oversaw to help make this happen.
She also led another transformative change across the industry—the development of vehicle-to-vehicle and vehicle-to-infrastructure communications capabilities as part of USDOT's Intelligent Transportation Systems Joint Program Office. She helped to implement these systems while protecting user privacy and security.
In her current role as Director of Training for the Federal Highway Administration's National Highway Institute (NHI), she currently provides technical training to the nation's highway transportation workforce to build skills and enhance job performance. NHI trains over 40,000 professionals per year on topics that lead to improved conditions and safety of our nations' roads, highways and bridges.
Inducted September 30, 2016.