Academy of Distinguished Alumni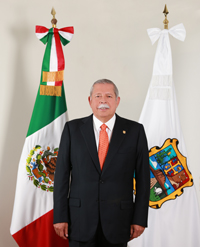 Egidio Torre-Cantú
MS, University of Texas at Austin, 1981
BS, Monterrey Institute of Technology, 1979
After earning his bachelor's degree from the Monterrey Institute of Technology and Higher Education, Egidio Torre-Cantú came to The University of Texas at Austin to study Construction Engineering and Project Management. He completed his master's degree and returned to Ciudad Victoria, Mexico where he built and ran his own construction business, Servicios de Ingeniería Tohesa. He is now is governor of the state of Tamaulipas.
Through his construction business, Egidio managed the construction of government edifices, large hydraulic projects, tourism infrastructure, and urban and industrial development projects. He has also taught architecture courses at Universidad La Salle Victoria: ULSA.
In 1982, Egidio started a career in public service. Since then he has been in charge of several duties, both at state and municipal levels. He was a councilman in the municipality of Ciudad Victoria, capital of the state of Tamaulipas, and later became mayor of that city from the year 2000 to 2001. He has been a state advisor and has coordinated the government proposals for the last two governor campaigns for his party in Tamaulipas.
He was elected governor of Tamaulipas in July 2010 and will serve until 2017. Governor Torre is deeply committed to transforming Tamaulipas and raising the standard of living for its citizens. Upon taking office, he instituted a State Development Plan (2010-2016) based on four pillars: Public Safety, Economic Competitiveness, Social Development and Environmental Sustainability.
Governor Torre has worked throughout his term to enhance cooperation and energy research exchange programs with the state of Texas. He is committed to continuing to foster collaborative exchanges that will allow Tamaulipas and Texas to work in stronger partnership to advance common goals.
Governor Torre has been a member of several professional organizations, including: American Society of Civil Engineers; American Concrete Institute; Construction Specifications Institute; and, the College of Civil Engineers of Ciudad Victoria, Tamaulipas.