Academy of Distinguished Alumni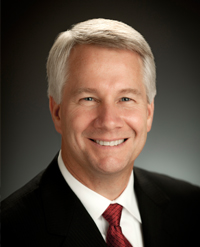 Samuel G. Dawson
B.S., University of Texas at Austin, 1983



Sam Dawson serves as Chief Executive Officer of Pape-Dawson Engineers, Inc., which was established in San Antonio in 1965. The firm has offices in San Antonio, Austin, Houston and Fort Worth, and provides civil and environmental engineering services to the public and private sectors. His responsibilities include the firm's management, allocation of resources, strategic planning, and operations. He also provides review and coordination of major projects.
His vast project experience includes federal/state highways; master development of residential, commercial, and industrial developments; sport facilities; public school campuses; floodplain modeling and reclamation; municipal and private wastewater collection and water distribution systems; and water pollution abatement facilities.
Since graduating from UT Austin, Dawson has always maintained a strong commitment to his profession and alma mater. He has held many leadership positions within San Antonio Chapters of the Texas Society of Professional Engineers and ASCE. He is currently serving as Chair of the Engineering Advisory Board for the Cockrell School of Engineering and serves on the Engineering Task Force and Chancellor's Council for the UT System. He also exhibits vigorous leadership in San Antonio civic affairs, the local business community, and his church.
He learned the value of community service from his family, who have been involved in every area of philanthropy in San Antonio and South Texas for generations. In 2009, The Dawson Family was inducted into the San Antonio Business Hall of Fame by Junior Achievement.
Dawson is also the recipient of the ASCE - John A. Focht, Jr. Citizen of the Year Award, and the San Antonio Mobility Coalition Transportation Champion Award. He was selected as a San Antonio Business Journal '40 Under 40'winner, and formerly selected as the Bexar Chapter and State Young Engineer of the Year and the Bexar Chapter Engineer of the Year by the Texas Society of Professional Engineers.
Inducted October 25, 2013