Academy of Distinguished Alumni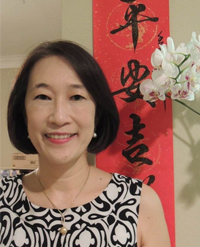 Chia-pei Chou
Ph.D., University of Texas at Austin, 1988
M.S., University of Texas at Austin, 1983
B.S., National Cheng Kung University, 1980
Chia-pei Chou received her M.S. and Ph.D. degrees from the Department of Civil Engineering, University of Texas at Austin. After working one year at the TxDOT, she joined the faculty in the Department of Civil Engineering at National Taiwan University (NTU), the country's top-ranked university, where she is a Distinguished Professor.
As a faculty member, she has been active in scholarly research in areas related to highway and airport pavements as well as motor vehicle size and weights for over two decades. In recognition of her teaching, she received NTU's Outstanding and Excellent Teaching Awards four times. She has supervised more than 70 masters students, 10 Ph.D.s, and published approximately 70 research reports.
Chou developed the Pavement Management Systems for the National Freeway Bureau and the Taoyuan International Airport in Taiwan. Additionally, her work formed the basis for the runway skid resistance inspection and measurement system for the Civil Aviation Administration of Taiwan.
Based on her research findings and recommendations, the heavy vehicle size and weight regulations of Taiwan were revised by the country's legislators. She also developed a laboratory method for the verification procedure of the intitial profiler and completed two Chinese National Standards.
In additional to her pavement specialties, she also acted as Director of the Center for International Academic Exchange of NTU and as CEO of the Foundation for International Cooperation in Higher Education of Taiwan. In these roles, she hosted and attended numerous international educational conferences which encouraged collaboration among universities. She was appointed as the associate dean of the College of Engineering at NTU from 2008 to 2010.
Since 2011 she has served her government as the director of the Division of Science and Technology, Taipei Economic and Cultural Offices in the United States for the National Science Council of Taiwan.
Inducted October 25, 2013