Academy of Distinguished Alumni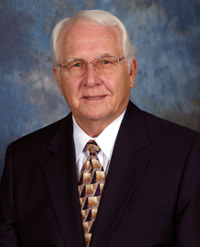 Eugene H. Dawson
B.S., University of Texas at Austin, 1957
A few years after graduating with a B.S. in Civil Engineering, Eugene Dawson co-founded his own successful company. In 1965, Dawson and partner, Gus Pape, formed Pape-Dawson Engineers, Inc. Both men borrowed $6,000 and agreed that if they didn't make it in six months, they would go back to working for someone else. The company is now the leading San Antonio-based civil and environmental consulting engineering firm and provides service to private and public sector clients throughout South Texas.
Dawson has led the company from two employees to a total staff of 400 with 200 professional employees and was selected by CE News as one of the Best Civil Engineering Firms to Work For in 2004. Pape-Dawson has an extensive list of successful public and private sector projects including access and infrastructure improvements to the SBC Center and the Toyota Plant in San Antonio. Other notable San Antonio landmarks that Pape-Dawson has been involved with include Sea World San Antonio, Valero Energy Corporate Headquarters, Tesoro Petroleum Corporation's offices, the Rivercenter Mall, Texas Research Park and the Harcourt Assessment offices..
Since graduation, Dawson has also been very active in many professional and civic organizations including the National Society of Professional Engineers and the Texas Society of Professional Engineers Bexar Chapter, where he served as President. He was honored in 1981 as San Antonio's "Engineer of the Year". In addition, Dawson has also served as a Director of Cullen-Frost Bankers, Bexar Savings Association, Baptist Memorial Hospital System and the San Antonio Golf Association.
Dawson has also maintained a strong relationship with the CAEE Department by serving as Chairman of the Visiting Committee and establishing the Eugene H. and Mary Duane Dawson Endowed Presidential Scholarship, which now has four students on scholarships.
Inducted November 9, 2007