Academy of Distinguished Alumni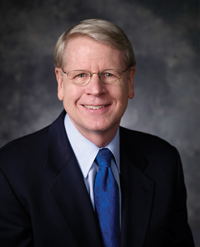 David E. Daniel
Ph.D., University of Texas at Austin, 1980
M.S., University of Texas at Austin, 1973
B.S., University of Texas at Austin, 1972
David E. Daniel is the fourth president of The University of Texas at Dallas. He received his bachelor's, master's, and Ph.D. degrees in engineering from The University of Texas at Austin, and served on the faculty at UT Austin from 1980 to 1996. In 1996, he moved to the University of Illinois, finishing his service as Dean of Engineering before being appointed UT Dallas' president in 2005.
His research has focused on engineered containment systems for waste disposal, and on the cleanup of contaminated waste disposal sites. He is editor of the book Geotechnical Practice for Waste Disposal and is co-author of the books Waste Containment Facilities and Engineered Covers for Solid Waste Landfills and Abandoned Dumps. He has won the American Society of Civil Engineers' highest award for papers published in its journals (the Normal Medal) and on two occasions has been awarded its second highest award for papers (J. James Croes Medal). He has also received ASCE's highest award for geotechnical papers published in its journals (Middlebrooks Award).
He served for three years as editor-in-chief for the Journal of Geotechnical and Geoenvironmental Engineering. He has served as a member of the National Research Council's Board on Energy and Environment and on its Geotechnical Board. He has taught more than 125 continuing education and training courses on waste containment, which have been attended by more than 15,000 engineers and scientists. Between his M.S. and Ph.D. degrees, he worked for three years as an engineer for Woodward-Clyde Consultants in San Francisco and Oakland. In 2000 he was elected to the National Academy of Engineering.
Inducted November 7, 2003