Academy of Distinguished Alumni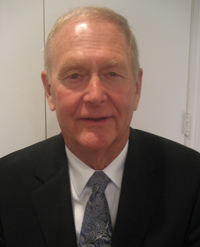 Mason C. Brown, Jr.
B.S., University of Texas at Austin, 1959
After graduating from UT in 1959, Mason Brown, Jr. began working as an estimator for Robert E. McKee General Contractors for a short time before entering the Army Corps of Engineers. He served most of his three years in Kitzingen, Germany and was awarded the Distinguished Service Medal after serving as Platoon Leader, Executive Officer and Company Commander of C Company.
In 1962, Brown returned to McKee Contractors, a general building company that specialized in large institutional, industrial and health care projects. Throughout the years, he held various positions as field engineer, project manager, construction manager and was president for four years.
When McKee was sold in 1988, Brown acquired a small concrete recycling operation which has grown into one of the largest concrete rubble processors in the country. Big City Crushed Concrete currently has seven permitted plants and has provided the construction industry with significant economic and environmental benefits by recycling clean, concrete rubble into TxDOT Grade rock material. Over the years, Big City has processed more than 20 million tons of concrete rubble and is currently processing at a rate of 2 million tons annually.
The company's positive environmental impact is primarily due to the reduction of truck traffic and use of aggregate from remote quarries. Crushing plants are strategically located in the heart of the Dallas-Fort Worth area, saving an estimated 10 million truck miles annual with a corresponding annual reduction of 2 million gallons of diesel and 10,000 truck tires.
In addition to creating an innovative company, Brown is also active in several civic and charitable organizations in the Dallas area and currently serves as Chairman of the Dallas Rotary Foundation.
Inducted November 9, 2007