Academy of Distinguished Alumni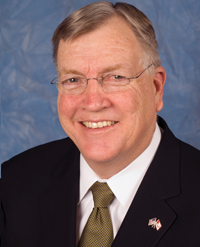 James A. Broaddus
Ph.D., University of Texas at Austin, 1991
M.S., University of Texas at Austin, 1976
B.S., University of Texas at Austin, 1970
With three degrees in Civil Engineering from The University of Texas at Austin, Jim Broaddus has had distinguished careers as a military officer, public servant and owner of a firm providing facilities planning, project management and construction.
During his 20-year career in the U. S. Navy Civil Engineer Corps and Seabees, he built facilities for the Navy throughout the world. He also had a unique assignment as Commanding Officer of the Presidential Retreat at Camp David for President Ronald Reagan. Upon returning to UT Austin to finish his Ph.D., he was Associate Director of The University of Texas Construction Industry Institute, where he focused on implementing research to improve the project management of capital projects. In 1994, he became the senior University of Texas System official responsible for the statewide capital construction program of the 15 UT institutions. During his tenure, he aggressively championed changes to Texas statutes that expanded the menu of project delivery procurement options to public owners.
In 1998, he became the first full-time CEO of the Design-Build Institute of America in Washington, doubling membership and expanding design-build rapidly nationwide as a construction contracting alternative. In 2000, Broaddus founded Broaddus & Associates, an owner-oriented planning and program management firm based in Austin employing 120 people with offices and projects throughout Texas, Mississippi and Washington, D.C. The Broaddus family of companies includes two construction firms: PM2i and FJW Construction. Now ranked as the 32nd largest Program Management firm in the U.S., Broaddus & Associates has in progress or completed $5 billion in projects, primarily institutional, healthcare, research and higher education.
In 2003, Broaddus was appointed by President Bush to the National Institute of Building Sciences, where he served as Chairman from 2007-2008. Under his leadership, the buildingSMART Alliance was founded to promote the rapid expansion and interoperability of Building Information Modeling (BIM).
Inducted October 9, 2009