Academy of Distinguished Alumni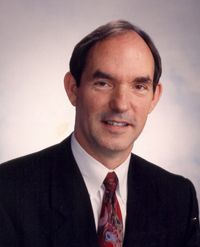 Joseph W. Blandford
O.P.M. (26), Harvard Business School, 1996
M.S., University of Houston, 1977
B.S., University of Texas at Austin, 1972
Joe Blandford retired at the age of 53 after selling his company, Atlantia Engineering, with more than 60 US and foreign patents to his credit. During the first five years of his career, Mr. Blandford designed and constructed large tanker terminals. He worked on the Alyeska terminal at Valdez Harbor in Alaska, was stationed on a derrick barge in Cook Inlet, and designed and built the Bonaire terminal in South America. He also expanded the Ras Tannurrah terminal, later destroyed in the Gulf War.
In 1977, while working at Fluor Ocean Services in Houston, he completed his Master's Degree at the University of Houston. Two years later Mr. Blandford founded Atlantia Engineering. Specializing in low-payload, low-cost platforms for offshore marginal fields, Atlantia installed the first patented SeaHorse platform in July of 1984. They eventually installed over 200 shallow water proprietary platforms in the Gulf of Mexico, West Africa, the North Sea and the Middle East. Grants from the U.S. Department of Energy enabled Blandford to expand his technologies and develop the SeaStar family of platforms for deep water. He received the Tibbetts Award from the Department of Energy and the Technology Achievement Award from the Offshore Technology Conference.
Mr. Blandford served as the Chair of the Engineering Foundation Advisory Council for the 2004 and 2005 terms. He is a member of the American Petroleum Institute, TSPE, Vice-Chair of IPAA's Offshore Committee, the University of Texas Chancellor's Council and the President's Associates, and is a Life Member of Friends of Alec.
Inducted October 14, 2004