Academy of Distinguished Alumni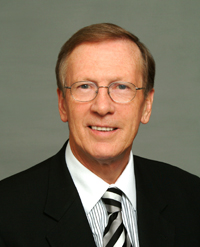 James L. Barnard
Ph.D., Vanderbilt University, 1971
M.S., University of Texas at Austin, 1969
B.S.(Hon)Engineering, University of Pretoria
B.S., University of Stellenbosch, 1957
Dr. James L. Barnard grew up on a small farm in South Africa and his interest in learning about how things worked led him to the University of Stellenbosch in the Republic of South Africa to study civil engineering. After being assigned to wastewater treatment, Barnard decided to learn more about the issues surrounding water and wastewater. This led him the complete his graduate work in Environmental Engineering and Water Resources at the University of Texas at Austin and at Vanderbilt University.
After graduation, Barnard returned to his native South Africa to serve as Senior Chief Research Officer at the National Institute for Water Research, where the biological nutrient removal (BNR) process was born. He is recognized internationally for developing the BarndenphoR Process and Phoredox, the basis for all biological and nutrient removal process configurations in use today.
Barnard has over 45 years of experience in water resources engineering and has designed over 100 innovative installations throughout the world by successfully adapting the BNR principles to a broad range of locations and environments including developing and industrialized countries. He designed and supervised the construction and activation of the first BNR system in the U.S. in Palmetto, Florida in 1978.
In addition to his pioneering work in water treatment, he has served for ten years on the Nitrogen Technical Advisory Panel for the New York City Department of Environmental Protection. He has also served on Technical Advisory Committees for the City of Winnepeg, Washington, D.C. and the City of Los Angeles.
In 2006, he was made an Honorary Diplomate of the American Academy of Environmental Engineers was recently awarded the 2007 Clarke Prize for the National Water Research Institute.
Inducted November 9, 2007