Academy of Distinguished Alumni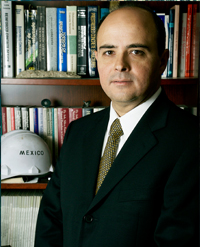 Sergio M. Alcocer
Ph.D., University of Texas at Austin, 1991
BSc., Universidad Nacional Autónoma de México, 1986
Sergio Manuel Alcocer is a leader in teaching and research in the area of concrete and masonry structures. He has also achieved distinction as an academic administrator. He became Secretary General (Provost) of the Universidad Nacional Autónoma de México (UNAM) in 2007, a position that places him second in command of the country's most prominent educational institution.
Following the completion of his Ph.D. at University of Texas at Austin, Alcocer returned to Mexico City at Centro Nacional de Prevención de Desastres (CENAPRED), where he was in charge of structural and geotechnical engineering. The center was created in 1988 to improve disaster mitigation and management after the devastating 1985 earthquake. In 2000, he was named Director for Research.
Alcocer also held a position as Research Professor in structural engineering at UNAM, one of many units in the Institute of Engineering. In 2001, he was awarded the UNAM Prize for Young Academics, as well as the Prize on Research of the Mexican Academy of Sciences. He eventually went on to serve as Director of the Institute of Engineering at UNAM.
He has also maintained a strong presence in professional activities, especially in the development of building codes and construction standards for the Mexico City Building Code, which serves as the de facto code for the country. Alcocer is an active member of several technical societies, such as PCI, EERI, ASCE, and ACI. He is a member of the ACI's Building Code Committee and Technical Activities Committee, and participates in several of the organization's committees which focus on seismic design and the rehabilitation of seismic structures.
He is a member of the Board of Directors of ACI and EERI, and is Past-President of the Mexican Society of Structural Engineering (SMIE). Alcocer is member of the Mexican Academies of Engineering and Sciences; advisor to ICA Foundation, and member of the board of Empresas ICA (largest construction company in Mexico). In 2007, he received the SMIE Prize on Structural Engineering for Housing.
Inducted October 21, 2010