Academy of Distinguished Alumni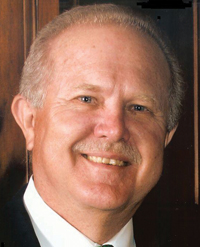 Jim D. Wiethorn
B.A., Baylor University, 1973
B.S., University of Texas at Austin, 1973
M.S., University of Texas at Austin, 1975
Jim Wiethorn has been involved in the design, construction, and evaluation of residential, commercial and industrial buildings since 1973. His experience has included evaluation and assessment of damage and failure of all construction types and systems, in particular, crane accidents.
Wiethorn graduated with a B.S. and M.S. in architectural engineering from University of Texas at Austin. While working on these degrees, he worked as a project engineer for W. Clark Craig and Associates, an Austin structural engineering firm. His construction background includes involvement as a third generation general contractor in the family business as owner and operator of various cranes, as well as Certificate of Competency as a General Contractor in Florida, by exam.
In 1987, Wiethorn went to work for Haag Engineering Company, the oldest forensics firm in the nation. He has been involved in over 350 cases involving crane failures, both nationally and internationally. Whenever a crane failure occurs, he is nearly always involved as he is one of the three foremost experts in the world. Some of the most publicized cases he has investigated include the Miller Baseball Park roof/crane collapse in Milwaukee; the Jack Breslin Center roof/crane collapse in East Lansing; the Maumee River Bridge launching girder collapse in Toledo; and the Hoover Dam Bypass Bridge cableway collapse. In addition, he has served in a myriad of construction litigation cases involving crane failures, building collapses, foundation failures, damage assessment of wind vs. wave, as well as product liability of various construction materials.
Wiethorn currently is Chairman of the Board of Directors of Haag Engineering Co., as well as a Principal Engineer in the Houston, Texas office. He is also a member of the National Commission for Certification of Crane Operators (NCCCO), Tower Crane Committee and Rigger Task Force Committee and is a licensed professional engineer in 29 states.