Academy of Distinguished Alumni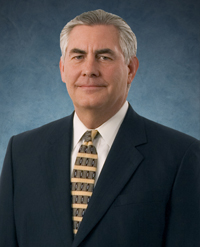 Rex W. Tillerson
B.S., University of Texas at Austin, 1975
Rex Tillerson, a native of Wichita Falls, Texas, earned a Bachelor of Science in Civil Engineering at the University of Texas at Austin before joining Exxon Company, U.S.A as a Production Engineer.
After starting out in a small production office near Katy, Texas, Mr. Tillerson began to follow an established career development plan at Exxon by holding various positions throughout the Corporation that increased his responsibilities in engineering and management. He moved through eight new assignments over an eight-year period.
Barely 14 years into his career at Exxon, he was assigned as General Manager of EUSA's Central Production Division, where he oversaw oil and gas production operations throughout portions of Texas, Oklahoma, Arkansas and Kansas.
Mr. Tillerson was named Production Advisor to Exxon Corporation in 1992 and shortly thereafter was named President of Exxon Yemen and Esso Exploration and Production Khorat, Inc. A few years later, as President of Exxon Neftgas Limited, he was responsible for Exxon's holdings in Russia, the Caspian Sea and the Sakhalin I Consortium operations. In 1999, he became Executive Vice President of ExxonMobil Development Company with responsibility for all upstream capital development projects worldwide.
Mr. Tillerson was named Senior Vice President for the Corporation in 2001 and was elected President of the Corporation and a member of the Board of Directors in 2004. He assumed his current position as Chairman and CEO of Exxon Mobil Corporation on January 1, 2006. He is also a member of the Engineering Foundation Advisory Council for the University of Texas at Austin and the Society of Petroleum Engineers.