Academy of Distinguished Alumni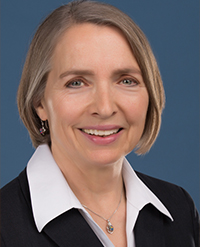 Mary Lou Ralls Newman
M.S., University of Texas at Austin, 1984
B.S., University of Texas at Austin, 1981
Mary Lou Ralls was born and raised in central Texas. She earned a B.S. in Civil Engineering with Highest Honors in 1981 and a M.S. in Engineering in 1984. Following graduation, she joined the Texas Department of Transportation (TxDOT), earning her Professional Engineer license in 1987.
She is a true pioneer in bridge engineering, with a 20-year career at TxDOT that included serving as the state bridge engineer and director of the Bridge Division from 1999 until retiring in 2004 to become an engineering consultant and principal of Ralls Newman, LLC.
Mary Lou led the development of one of the most attractive and efficient new precast bridge systems, the Texas U-Beam, to achieve major market share in the past two decades. She is in the forefront of the development and implementation of modern technology such as high-performance concrete bridges and totally prefabricated bridge systems.
Her activities with the American Association of State Highway and Transportation Officials (AASHTO) and the Federal Highway Administration (FHWA), among other groups, facilitated the implementation of these technologies in Texas.
She has written various published technical articles and papers, and has received a number of awards including the 2004 Administrator's Public Service Award from FHWA, the 2003 Dr. L.I. Hewes Award from the Western Association of State Highway and Transportation Officials, and the 2002 President's Award in Research Category from AASHTO.