Academy of Distinguished Alumni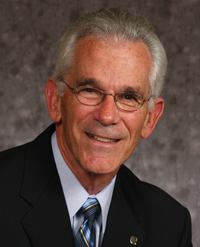 Alan H. Plummer, Jr.
M.S., University of Texas at Austin, 1968
B.S., Lamar University, 1964
Alan H. Plummer, Jr. began his career in 1964 after graduating with a degree in civil engineering from Lamar University in Beaumont, Texas. Graduate studies at the University of Texas at Austin equipped him to help clients transition from the trickling filter process to the activated sludge process, which was a developing technology during the 1960's. Since 1978, Plummer has provided leadership in the firm of Alan Plummer Associates, Inc., (APAI), a consulting engineering firm recognized as a leader in the environmental field in Texas.
Plummer has planned and designed multiple water and wastewater systems, a particular area of focus being the Trinity River Basin where he has helped his clients greatly improve the river's water quality. He has also performed water quality assessments for most of the river basins and reservoirs throughout Texas. APAI has Texas offices located in Fort Worth, Dallas, Austin, Houston and a Mississippi office in Gautier.
He has promoted the development of odor technologies, which have significantly reduced odorous emissions from many plants. Plummer's involvement in water reuse began in 1986, and his expertise in planning and designing water reuse applications has contributed to major water reuse projects in Texas. Additionally, he developed the concepts for the largest, urbanized non-potable and potable augmentation reuse projects in Texas and has also received state and national engineering excellence awards for the Richland-Chambers Reuse Wetlands Project.
Plummer is a registered professional engineer in five states and is a Board Certified Environmental Engineer. He has been recognized as an Outstanding Young Engineer by the Texas Society of Professional Engineers and a Distinguished Alumni of Lamar University's Civil Engineering Department.