Academy of Distinguished Alumni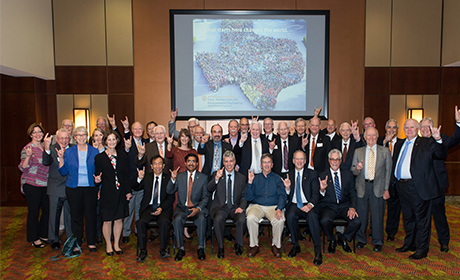 The Civil, Architectural and Environmental Engineering Academy of Distinguished Alumni was established to recognize the professional achievements and contributions of our graduates. The members of the academy also serve as leaders and role models among alumni and students.
Twenty-seven charter members, all Distinguished Graduates at the Cockrell School of Engineering or CAEE departmental level, were inducted into the Academy on November 7, 2003. Every fall since, eight to nine additional members are inducted into the Academy.
Each active member holds a B.S., M.S., or Ph.D. from the department and is outstanding in his or her field, a leader of community affairs and worthy of emulation.
NOMINATION FORM - return to Carol Perales. Deadline: February 15, 2018.
OUTREACH & GIVING- information for Academy members on outreach and giving opportunities.
The names of Academy of Distinguished Alumni members are listed below in alphabetical order, linking to photos and detailed information on their engineering contributions.
Abdelrazaq, Ahmad K.
Adams, Carl E., Jr.
Akmansoy, Sandra
Alami, Zuheir Y.
Alcocer, Sergio M.
Allegre, Raul E.
Al-Rashid, Nasser I.
Barnard, James L.
Bartoletti, Stacy J.
Benson, Craig H.
Bhattarai, Rajendra P.
Blandford, Joseph W.
Bonaparte, Rudolph
Breen, John E.
Briggs, Valerie A.
Broaddus, James A.
Brown, Dan A.
Brown, J.Crozier
Brown, Mason C., Jr.
Canning, James W.
Chiang, W. Walter
Cheng, J. J. Roger
Chou, Chia-pei
Clark, Sarah C.
Connolly, John P.
Cook, Ronald A.
Covarubbias, David T.
Daniel, David E.
Darby, Jeannie L.
Dawson, Eugene H.
Dawson, Samuel G.
de Jordan, Elia King
de Solminihac, Hernan
Deierlein, Gregory G.
Ersoy, Ugur
Erzurumlu, H. Chik M.
Espey, William H., Jr.
Farmer, Larry E.
Flanigan, Erin J.
Flynn, L. Patrick, Jr.
Ford, David T.
Ford, Davis L.
Ford, J. Stephen
Fowler, David W.
Furlong, Richard W.
Garza, S.A.
Gloyna, Earnest F.
Griffis, Lawrence G.
Gromiec, Marek J.
Grubbs, Berry R.
Guerra, Jose I.
Hahn, Dewayne H.
Hamad, Bilal S.
Han, Mooyoung
Haragan, Donald R.
Harper, William J.
Harrod, Julia M.
Helwig, Todd A.
Homsi, Elie H.
Hudson, Stuart W.
Hudson, W. Ronald
Hyde, Grace
Ingram, Wayne B.
Isenhower, William M.
Islam, Rashed
Kashima, Satoshi
Koederitz, Candice E.
Kornegay, H. Thomas, Jr.
Lee, Clyde E. (Honorary Member)
Leon, Roberto T.
Lew, H.S.
Leyendecker, Edgar V.
Linbeck, Leo III
Lytton, Robert L.
Machemehl, Charles A.
Machemehl, Randy B.
Maruyama, Kyuichi
Matsui, Saburo
Mehta, Kishor C.
Meinheit, Donald F.
Metcalf, Patricia S.
Metzger, James H.
Mirza, Sher Ali
Motherwell, Jonathan T.
Mullen, Susan M.
Naeve, G. Charles
Nellor, Margaret H.
Nelson, Erik L.
Neumann, Kelley S.
Nicastro, David H.
Oliver, Arnold W.
Olson, Larry D.
Olson, Roy E. (Honorary Member)
Ortwein, Sara N.
Pfeiffer, Fred N.
Plummer, Alan H., Jr.
Poston, Randall W.
Powell, Lisa Carter
Qaddumi, Nabil Hani
Rad, Franz N.
Ralls Newman, Mary Lou
Ramirez, Julio A.
Randall, Jack P.
Rapier, Joseph R.
Ratliff, William B.
Ratliff, William R.
Reed, Edward E.
Reese, Gregg A.
Richardson, John H.
Rigsbee, H. Ken, Jr.
Rix, Glenn J.
Sacre, Alexis S.
Saenz, Amadeo, Jr.
Schnoor, Jerald L.
Segner, Edmund P., Jr.
Shen, Ching-Peng
Smith, Robert E.
Steadman, H. Douglas
Taylor, Andrew W.
Taylor, Thomas W.
Thompson, Grant R.
Tillerson, Rex W.
Torre-Cantu, Egidio
Touma, Fadlo T.
Tucker, Richard L.
Uddin, Waheed
Van Landuyt, Dean W.
Holguín-Veras, José
Wheat, Dan L. (Honorary Member)
Wiethorn, Jim D.
Wooley, John A.
Yura, Joseph A. (Honorary Member)
Distinguished past members are listed below in alphabetical order. They are linked to photos and detailed information on their engineering contributions.
Burns, Ned H.
Chance, John E.
Covarrubias, Jesse S.
DeBerry, B. Luther
Dunn, W. Paul
Fleckseder, Hellmut R.
Focht, John A., Jr.
Garbade, William C.
Love, George C.
Malina, Joseph F., Jr. (Honorary Member)
Matlock, Hudson
McCullough, B. Frank, Jr.
Meier, Wilbur L, Jr.
Price, Bobby E.
Reed, Robert L.
Reese, Lymon C.
Sorber, Charles A.